Every industry has big things to move.  Moving something is only part of the job, as things both big and small must also be moved precisely and accurately.  For a variety of reasons (including quality control, safety and more) motion must be guided and controlled. No matter what you need to move, HIWIN Corporation can help with their comprehensive lineup of Linear Guideways.
In HIWIN's words:
"Linear guideways provide a type of linear motion that utilizes re-circulating rolling elements between a profiled rail and a bearing block. The coefficient of friction on a linear guideway is only 1/50 compared to a traditional slide and are able to take loads in all directions. With these features, a linear guideway can achieve high precision and greatly enhanced moving accuracy."
What this means is that due to the low friction properties of ball-bearings combined with HIWIN's  unique designs, you can move elephant-sized loads with mouse-sized efforts.
HIWIN's recently released their CG Series Linear Guideway.  This series was designed with moment loads in mind. It offers 50% greater capacity for offset or twisting loads than the existing HG Series Linear Guideway.  As an accessory, the CG Series has an optional stainless steel cover strip that increases dust protection, improves appearance, and promotes a smooth block transition when rails must be butted for extra-long motions.
Tec-Hackett, Inc., partnering with HIWIN, offers more than ten series of Linear Guideway, complete with a full range of accessories, to fit the unique needs of your application.  At Tec-Hackett we stock dozens of profiles and sizes, allowing us to help you find the product best fit for your needs.  We also offer cutting services so that you can remain focused on the important details of your machine's design, and leave the dirty part to us.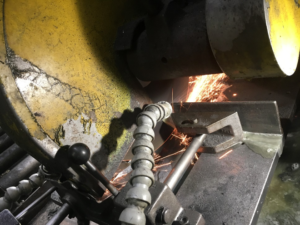 Along with Linear Guideway, HIWIN offers Ballscrews, Linear Actuators, Linear Motors, Single Axis Robots (combined guideway + ballscrew "stages"), Positioning Measurement Systems, AC Servos and Steppers, and more!
We stock and will cut Linear Guideway to length for your application.  
Call Tec-Hackett to speak to a Customer Service Representative about HIWIN today!  
Email us at sales@tec-hackett.com